Al's Diner is a restaurant in Lisbon, Maine owned and operated by Al Templeton.
About
Al has owned the business for thirty-five years. In his pantry is a time portal, that he calls a "Rabbit Hole", which leads to 11:58 a.m., October 21, 1960.
He convinces Jake Epping to use the portal to go back in time to prevent the assassination of President John F. Kennedy. ("The Rabbit Hole")
Image Gallery
Trivia
Production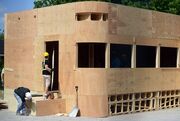 The scenes involving the diner were shot in Guelph, Ontario, Canada at the corner of Oliver and Huron Streets. The May 2015 Google StreetView of 118 Huron Street shows the diner set being constructed. Note that there is no concrete foundation. It is 2x4 construction on the ground and pieces for the curved ends of the diner are in the Ryder truck parked on Oliver Street.[1]
References
↑ 11.22.63, Trivia on the Internet Movie Database. Retrieved on September 12, 2019, edited.