Edwin Walker
Biographical Information
Name
Edwin A. Walker
Occupation
U.S. Army Major General
Residence
Dallas, Texas
Time Period
1963
Status
Alive
Relationship Information
Family
Unknown
Character Information
Portrayed by
Gregory North
Appearance
The Truth
Major General Edwin Walker survived an assassination attempt in his own home on April 10, 1963. It was later discovered that Lee Harvey Oswald had committed the action.
Character
Biography
Historical Figure
Biography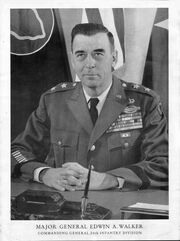 Edwin A. Walker, United States Army General, was born in Center Point, Kerr County, Texas, on November 10, 1909. On April 10, 1963, Walker was victim of an assassination attempt while he sat at a desk in his Dallas home - the bullet missed by inches. It was later discovered that Lee Harvey Oswald had taken the shot at Walker. Marina Oswald later revealed that her husband admitted to her that he had attempted to kill Walker. Photographs of Walker's house were found in Oswald's apartment after the Kennedy assassination, and the FBI matched the bullet found at Walker's residence with fragments recovered in the Kennedy assassination. He apparently had used the same rifle both times. Oswald believed that Walker was a dangerous fascist who should be stopped before he became politically powerful. Walker never gained such power and died in relative obscurity in Dallas on October 31, 1993.[1]
External Links
For further biographical information, see Edwin A. Walker at the Texas State Historical Association website.
References