Holden, Kentucky is Harry Dunning's hometown. The day that changed his life was Halloween night 1960 when his father, Frank Dunning, killed everyone in his family. ("The Rabbit Hole")
Description
Holden is about a one-hour drive from Lexington. It a small town with no tourist appeal. An ironworks factory produces a noxious smell that keeps visitors away, therefore no lodgings are available. When visitors do come, they usually rent a room from Arliss and Edna Price.
The only nightlife in town is Sammy's Town House where Bill Turcotte tends bar. The bar fills up after quitting time at the factory. ("The Kill Floor")
Changing the Past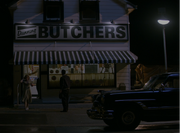 Jake Epping goes back in time to 1960 to try to make Harry's life better by stopping Frank from killing his family. Jake tries to get them out of town, but Frank discovers the ruse and stops them. That night, Jake goes to Harry's house, gets into a fight with Frank, garrotes and kills him. ("The Kill Floor")
Trivia
General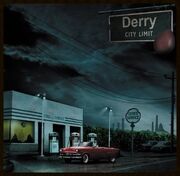 Holden is a fictional location invented for the miniseries. In the novel, the setting is Derry, Maine (1958). Derry is a fictional town where other Stephen King stories are set.