J. J. Abrams
Credits
Position
Executive Producer
Biographical Information
Name
Jeffrey Jacob Abrams
Birthdate
June 27, 1966
Birthplace
New York, New York, United States
J. J. Abrams was an executive producer on the 11.22.63 miniseries.
Career
Jeffrey Jacob Abrams is an American filmmaker. He is known for his work in the genres of action, drama, and science fiction. Abrams wrote or produced such films as "Regarding Henry" (1991), "Forever Young" (1992), "Armageddon" (1998), "Cloverfield" (2008), "Star Trek" (2009), "Star Wars: Episode VII - The Force Awakens" (2015), and "Star Wars: Episode IX - The Rise of Skywalker" (2019).
Abrams has created numerous television series, including "Felicity" (co-creator, 1998–2002), "Alias" (creator, 2001–2006), "Lost" (co-creator, 2004–2010), and "Fringe" (co-creator, 2008–2013). He won two Emmy Awards for "Lost" — Outstanding Directing for a Drama Series and Outstanding Drama Series.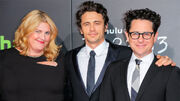 His directorial film work includes "Mission: Impossible III" (2006), "Star Trek" (2009), "Super 8" (2011), and "Star Trek Into Darkness" (2013). He also directed, produced and co-wrote "The Force Awakens", the seventh episode of the Star Wars saga and the first film of the sequel trilogy. The film is also his highest-grossing, as well as the fourth-highest-grossing film of all time not adjusted for inflation. He returned to Star Wars by co-writing, producing and directing the ninth and final installment of the saga, "The Rise of Skywalker".
Abrams' frequent collaborators include producer Bryan Burk, actors Greg Grunberg, Simon Pegg and Keri Russell, composer Michael Giacchino, writers Alex Kurtzman and Roberto Orci, cinematographers Daniel Mindel and Larry Fong, and editors Maryann Brandon and Mary Jo Markey.[1]
Personal Life
Abrams is married to public relations executive Katie McGrath and has three children. He resides in Pacific Palisades, Los Angeles, California.[2]
Image Gallery
References