"Mr. Amberson, I don't know how to say this, but I have a feeling that something terrible could've happened today. Thanks to you, it didn't. [. . .] I know that you lost your fiancée. I'm so sorry. God bless you."
Jacqueline Kennedy
Biographical Information
Name
Jacqueline Lee Bouvier Kennedy Onassis
Nickname
Jackie
Occupation
First Lady of the United States
Photographer
Book Editor
Residence
Washington, D.C.
Time Period
1960-1963
Status
Alive
Relationship Information
Spouse
John F. Kennedy
Children
Arabella Kennedy (stillborn daughter)
Caroline Kennedy (daughter)
John F. Kennedy, Jr. (son)
Patrick Bouvier Kennedy (son, deceased)
Relatives
Robert F. Kennedy (brother-in-law)
Character Information
Portrayed by
Pip Dwyer
Other Portrayer
Deanna Cahill (motorcade)
First Appearance
The Rabbit Hole
Last Appearance
The Day in Question

Image Gallery (2)
Jacqueline Kennedy (Jackie) was the wife of President John F. Kennedy and the First Lady of the United States.
Character
Biography
After time traveler Jake Epping saved John Kennedy's life from the assassin Lee Harvey Oswald, the President calls Jake to thank him before handing the phone to Jacqueline. She also thanks him and offers her condolences for the death of Sadie Dunhill, whom Oswald had killed. ("The Day in Question")
Episodes
Historical Figure
Biography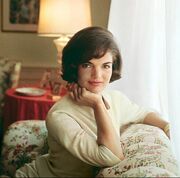 Jacqueline Lee Bouvier Kennedy Onassis (July 28, 1929 – May 19, 1994) was First Lady of the United States during the presidency of John F. Kennedy and was regarded then and afterward as an international icon of style and culture.
Bouvier was born in 1929 in Southampton, New York. In 1951, she graduated with a Bachelor of Arts in French literature from George Washington University and went on to work for the Washington Times-Herald as an inquiring photographer.
In 1952, Bouvier met then-Congressman Jack Kennedy at a dinner party in Washington. Kennedy was elected to the Senate that same year, and the couple married on September 12, 1953, in Newport, Rhode Island. They had four children, two of whom died in infancy. Following her husband's election to the presidency in 1960, Jacqueline was known for her highly publicized restoration of the White House and emphasis on arts and culture, as well as for her style, elegance and grace.
On November 22, 1963, Jacqueline was riding with her husband in a presidential motorcade in Dallas, Texas, when he was assassinated. Following his funeral, she and her children largely withdrew from public view. In 1968, she married Greek shipping magnate Aristotle Onassis. Following Onassis' death in 1975, she had a career as a book editor in New York City. She died on May 19, 1994, of non-Hodgkin lymphoma, aged sixty-four.[1]
Trivia
During her lifetime, Jacqueline Kennedy was regarded as an international fashion icon. Her famous ensemble of a pink Chanel suit and matching pillbox hat that she wore in Dallas has become a symbol of her husband's assassination.[2]
References