James Hosty is an FBI Special Agent based in Dallas, Texas. He investigates Lee Harvey Oswald and Jake Epping.
Character
Biography
Hosty questions Jake Epping, who has just narrowly prevented Oswald from killing the president. Hosty is suspicious of Epping because of what he knows about Oswald and his investigation by the FBI, but assists Epping in his efforts to quietly disappear, so that he may return to 2016.[1] ("The Day in Question")
Episodes
Historical Figure
Biography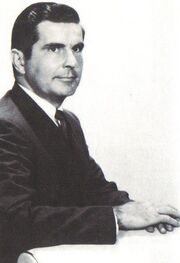 James Patrick Hosty, Jr. (August 28, 1924 - June 10, 2011) was an American FBI agent assigned to investigate Lee Harvey Oswald upon Oswald's June 1962 return to the United States after his defection to the Soviet Union. After Hosty made contact with Marina Oswald (a Soviet citizen) in order to interview her about her recent entry into the United States, Oswald wrote him a letter to protest the "harassment" of his wife Marina, and had Hosty's name and phone number in his address book. After the Kennedy assassination, Hosty did not disclose Oswald's letter about Marina to the Warren Commission and destroyed it on his superior's order. Because of this, Hosty attracted speculation as a possible conspirator in several conspiracy theories. Hosty was transferred to the FBI's Kansas City office until his mandatory retirement in 1979. Hosty later wrote a memoir about the Kennedy assassination, titled "Assignment: Oswald".[2]
References